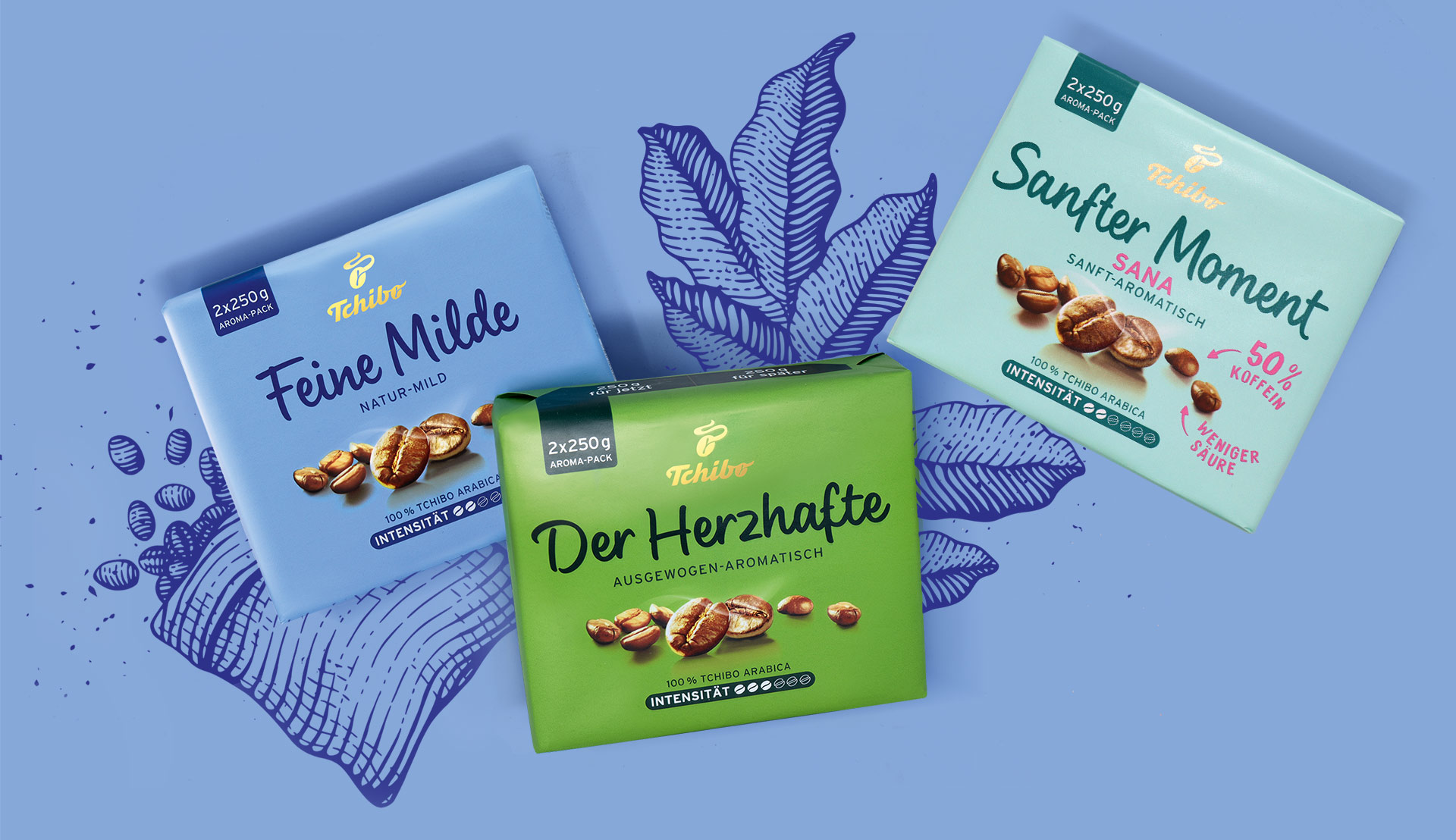 Tchibo Filter Coffee Classics
Tchibo filter coffee classics — filter coffee is still the largest segment of the coffee market in Germany. For over 50 years, Tchibo has been offering classic coffee enjoyment in high quality in the mainstream segment. Alongside "Der Herzhafte", "Feine Milde" is the best-known and most popular product and thus the flagship of the Tchibo brand.
As part of a facelift of the classic range, the entire range was revised, with the recipe of "Sana" and "Beste Bohne" being adapted to new coffee trends.
Appealing to younger consumers without losing the loyal buyers – to achieve this, the design was adapted to today's visual habits by fine-tuning all elements. Flat, bold and to the point. The previously used garish colours and the high-gloss surface of the outer material gave way to food-oriented colours on matt paper. Soft gradients and blurred areas were avoided in the coffee bean illustration. The focus on a few but sharp coffee beans illustrates the high quality of the products. The lettering has also been revised and modernized.
In addition, an eye-catching disruptor draws attention to the special feature of the 2 fresh packs – this preserves what we all love coffee for so much – the fresh coffee aroma.
Relaunch
Packaging
Handlettering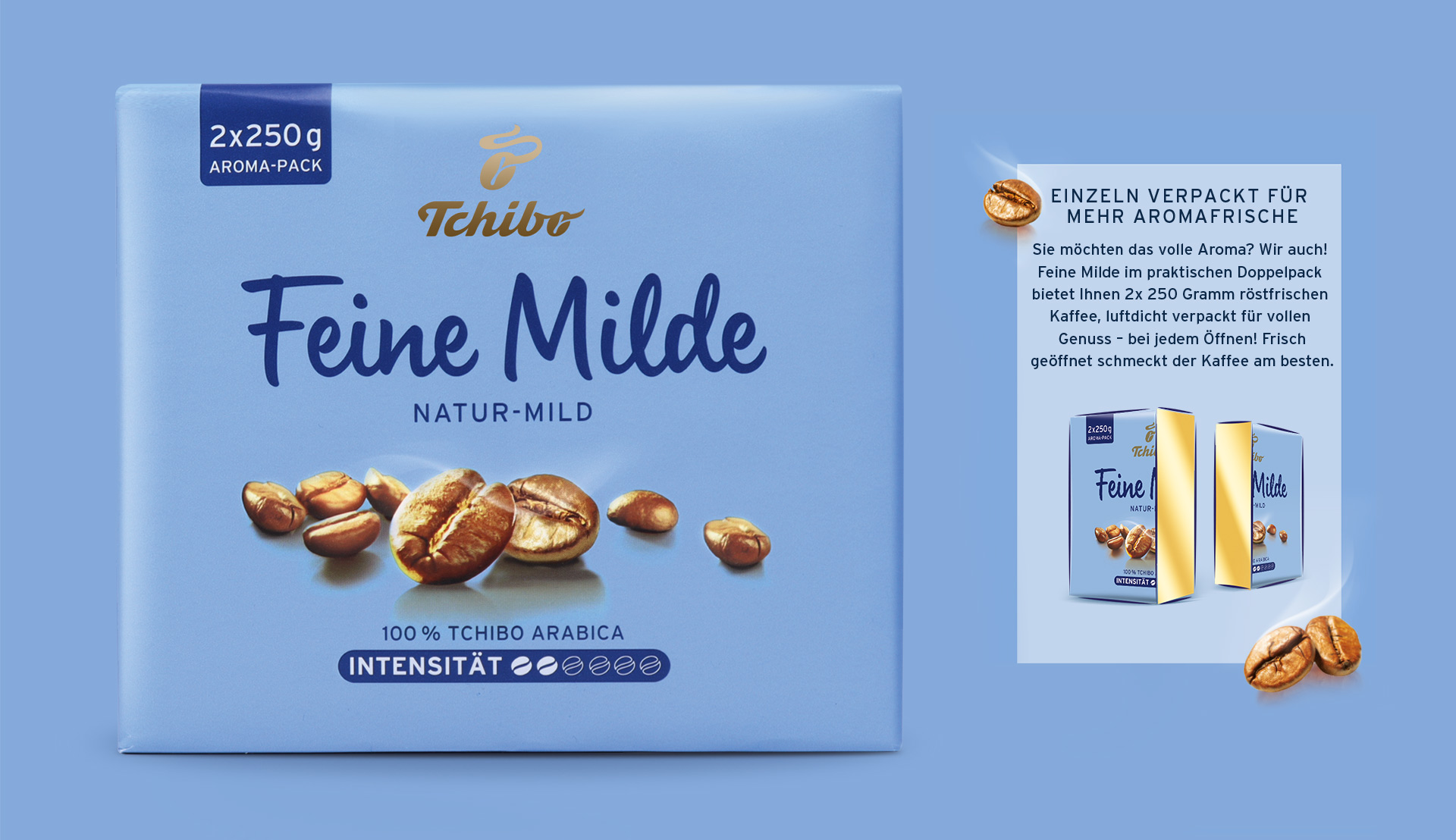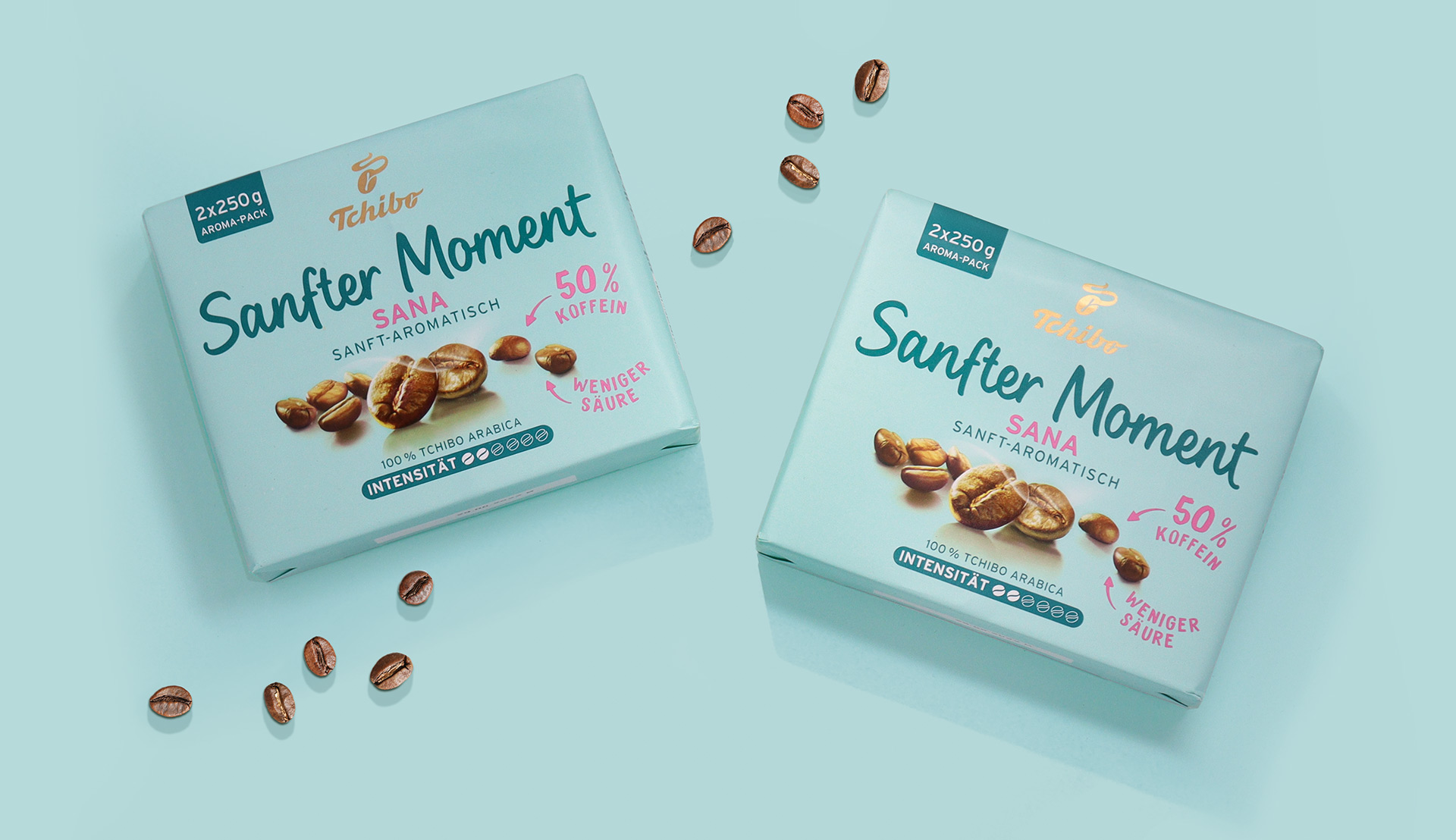 Sanfter Moment — SANA – "SANA" was removed from the classic range and repositioned as a lifestyle coffee with reduced caffeine. Of all four coffees, the biggest change was made here. The soft, modern colours support the young Decaf concept. The new name "Sanfter Moment" follows the Tchibo tradition of the Classic-products and fits perfectly into the range as a newcomer.
Beste Bohne — By linking an origin concept and the changed recipe, "Beste Bohne" positions itself as an attention-grabbing Colombia Edition for coffee lovers in search of that special enjoyment experience. The fascinating illustration of the jungle world on a golden background perfectly stages the exotic note of the coffee and the special quality of "Beste Bohne".
Here, together with our client Tchibo, an elaborate metallic effect on a matt background was developed to match the printing process and material.